Zeus
| | | |
| --- | --- | --- |
| " | Greetings there, young man! Look, your father's always been rather difficult, and he's not so much as called in quite some time. You'll have a better home where you belong, here on Olympus! And to help you on your journey, have my blessing. | " |
| | ~ Zeus | |
Zeus is the god of the sky and thunder, and the ruler of the Olympian Gods. He offers boons to Zagreus which give his abilities chain lightning or lightning strikes.
Zeus boons excel at dealing damage to groups of enemies, as chain lightning effects bounce between enemies, and lightning strikes can hit multiple enemies.
His signature Status Curse is Jolted, which causes enemies to inflict damage to themselves when they attack, consuming the Curse.
Zeus is one of four Olympian gods (the other three being Artemis, Demeter and Aphrodite) who will not appear in the very first run of a save.
If given Nectar, Zeus will give you the Thunder Signet.
Zeus' affinity gauge is maxed out at 7 hearts.
Zeus' favor involves hearing the other Gods' opinions of him, as well as seeing Zeus express a desire to reconnect with Hades, along with Hades' response.

'...The Master of the Heavens, god among gods; so much of my mortal life was impacted by him. And now, even in death, I serve his brother. I do not think that I have much to say for the Lord Zeus which is not widely known, already. Once, he overthrew the Titans, his own ancestors, to wrest control of all the heavens and the earth. He yet presides as ruler over all. Lord Hades bears no love for him, for reasons I can scarce begin to contemplate; it is as though Lord Hades chooses willingly not to consort with the Olympians.'
For quotes and dialogue regarding Zeus, please refer to Zeus/Quotes.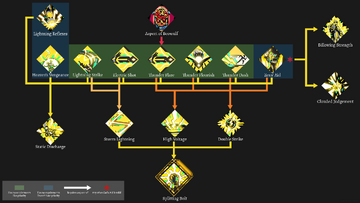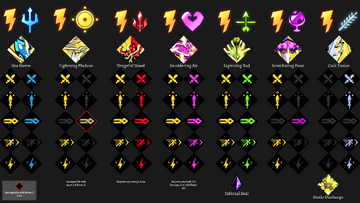 Zeus boons mostly revolve around two main effects. The first is chain-lightning. Chain-lightning effects will bounce between enemies, dealing damage to each enemy they bounce to. Additionally, Zeus also can grant lightning bolt effects, which cause a lightning bolt to strike an enemy, dealing damage in an area around it. These are both considered "lightning effects" and can be improved or amplified by other Zeus boons, such as Static Discharge, which adds the Jolted effect to all of your lightning effects.
Boon
Description
Rarity
Notes
Prerequisites

Lightning Strike
Your Attack emits chain-lightning when you damage a foe.

Common:

Rare

:

Epic

:

Heroic

:

Tier 1

Bounces: 4
Bounce Range: 520
Deals reduced damage per bounce.

None

Thunder Flourish
Your Special causes a lightning bolt to strike nearby foes.

Common:

Rare

:

Epic

:

Heroic

:

Has internal cooldown of .2 per target. (Bolt only triggers, at most, 5 times per second per enemy)

Tier 1

None

Electric Shot
Your Cast is a burst of chain-lightning that bounces between foes.

Common:

Rare

:

Epic

:

Heroic

:

Tier 1

Bounces: 5
Bounce Range: 720
Cannot be combined with Aspect of Beowulf

None

Thunder Flare
Your Cast causes a lightning bolt to strike nearby foes.

Common:

Rare

:

Epic

:

Heroic

:

Tier 1
Unique to Aspect of Beowulf

Thunder Dash
Your Dash causes a lightning bolt to strike nearby foes.

Common:

Rare

:

Epic

:

Heroic

:

Tier 1

Range: 500
Damage Radius: 200

None

Zeus' Aid
Your Call makes lightning strike nearby foes repeatedly for 1.5 Sec.

Common:

Rare

:

Epic

:

Heroic

:

Tier 1

Max Gauge Bonus:

9 Sec.

Duration

None

Heaven's Vengeance
After you take damage, your foe is struck by lightning.

Common:

Rare

:

Epic

:

Heroic

:

Tier 1
None

Lightning Reflexes
After you Dash just before getting hit, a bolt strikes a nearby foes.

Common:

Rare

:

Epic

:

Heroic

:

Tier 1
None

Storm Lightning
Your chain-lightning effects bounce more times before expiring.

Common:

Rare

:

Epic

:

Heroic

:

Tier 2

Electric Shot gains 3, 6 or 9 jumps from this boon instead.

Lightning Strike or Electric Shot

High Voltage
Your lightning bolt effects deal damage in a larger area.

Common:

Bolt Area of Effect:

+60%

Rare

:

Epic

:

Heroic

:

Tier 2
Thunder Flourish, Thunder Dash, or Zeus' Aid

Double Strike
Your lightning bolt effects have a chance to strike twice.

Common:

Rare

:

Epic

:

Heroic

:

Tier 2
Thunder Flourish, Thunder Dash, or Zeus' Aid

Static Discharge
Your lightning effects also make foes Jolted.

Common:

Rare

:

Epic

:

Heroic

:

Tier 2
Lightning Strike, Thunder Flourish, Electric Shot, Thunder Dash, Zeus' Aid, Heaven's Vengeance, or Lightning Reflexes

Clouded Judgment
Your God Gauge charges faster when you deal or take damage.

Common:

Rare

:

Epic

:

Heroic

:

Tier 2
Aphrodite's Aid, Ares' Aid, Artemis' Aid, Athena's Aid, Demeter's Aid, Dionysus' Aid, Poseidon's Aid, or Zeus' Aid

Billowing Strength
After using Call, you deal more damage for 15 Sec.

Common:

Rare

:

Epic

:

Heroic

:

Tier 2
Aphrodite's Aid, Ares' Aid, Artemis' Aid, Athena's Aid, Demeter's Aid, Dionysus' Aid, Poseidon's Aid, or Zeus' Aid

Splitting Bolt
All your lightning effects create an additional burst.

Legendary

Tier 3

The additional burst is a slow moving spark.
Spark Speed: 500
Bounces: 5
Bounce Range: 520

Storm Lightning, High Voltage, or Double Strike

Smoldering Air
Your Call charges up automatically, but is capped at 25%.

Auto Gauge Gain: 1% every .2 seconds

Duo

(Aphrodite)



Cannot be combined with Sigil of the Dead

One of each:

Zeus: Lightning Strike, Thunder Flourish, Electric Shot, Thunder Dash, or Zeus' Aid
Aphrodite: Heartbreak Strike, Heartbreak Flourish, Crush Shot, Passion Dash, or Aphrodite's Aid


Vengeful Mood
Your Revenge attacks sometimes occur without taking damage.

Auto-Revenge Rate:

3 Sec.

Duo

(Ares)
One of each:

Zeus: Lightning Strike, Thunder Flourish, Electric Shot, Thunder Dash, or Zeus' Aid
Ares: Curse of Agony, Curse of Pain, Slicing Shot, Blade Dash, or Ares' Aid,


Lightning Rod
Your collectible strike nearby foes with lightning every 1 Sec.

Duo

(Artemis)



Requires the Infernal Soul Mirror Ability
Lowers the range at which you can pick up

One of each:

Zeus: Lightning Strike, Thunder Flourish, Electric Shot, Thunder Dash, or Zeus' Aid
Artemis: Deadly Strike, Deadly Flourish, True Shot, Hunter Dash, or Artemis' Aid


Lightning Phalanx
Your Phalanx Shot Cast bounces between nearby foes.

Duo

(Athena)



Cannot be combined with Aspect of Beowulf

One of each:

Zeus: Lightning Strike, Thunder Flourish, Thunder Dash, or Zeus' Aid
Athena: Phalanx Shot


Cold Fusion
Jolted status does not expire on your enemies' attacks.

Duo

(Demeter)
One of each:

Zeus: Static Discharge
Demeter: Frost Strike, Frost Flourish, Mistral Dash, or Demeter's Aid,


Scintillating Feast
Your Festive Fog effects also deal lightning damage periodically.

Duo

(Dionysus)
One of each:

Zeus: Lightning Strike, Thunder Flourish, Electric Shot, Thunder Dash, or Zeus' Aid
Dionysus: Trippy Shot or High Tolerance


Sea Storm
Your knock-away effects also cause foes to be struck by lightning.

Duo

(Poseidon)
One of each:

Zeus: Lightning Strike, Thunder Flourish, Electric Shot, Thunder Dash, or Zeus' Aid
Poseidon: Tempest Strike, Tempest Flourish, Flood Shot, or Poseidon's Aid
For additional information on Zeus that does not pertain to Hades, see Wikipedia's article: Zeus