Dionysus
| | | |
| --- | --- | --- |
| " | Heeey, there, Zag, man, how's it going? Look, you have got to get here with the rest of us already, we've been saving you a spot! Let me see what I can do, make life a little sweeter for you in the meantime! | " |
| | ~ Dionysus | |
Dionysus is the Olympian God of wine and madness. He offers boons to Zagreus revolving around his signature Status Curse, Hangover, slowing and stunning enemies, as well as various drinking-themed Boons.
Dionysus boons boast high damage over extended periods of time. However, his boons also offer great crowd control with stuns and slows, and offer great survivability and healing boons, helping extend a trip into the Underworld for a little longer.
His signature Status Curse is Hangover, which deals continuous damage to afflicted enemies every half second. Hangover can be stacked onto an enemy up to a base amount of 5 times, and stacks wear off one at a time after 4 seconds.
If given Nectar, Dionysus will give you the Overflowing Cup.
Dionysus' affinity gauge is maxed out at 7 hearts.
Dionysus' favor requires forging bonds with at least 6 different characters, and gifting a minimum of 10

to any number of characters.

'...Perhaps I ought to feel a kinship with this easygoing son of Zeus, for it is said that he has some mortal blood in him, not just divinity. This may explain why he, among Olympians, is so well-loved by mortal-kind; because he loves them back, bringing to them more joy than suffering, for the most part. Being rather unlike the other gods in this regard, he nonetheless maintains a careful distance from the Underworld, generally severing his ties with all his mortal followers upon the moment of their deaths. Why confront the woes of the dead when you can live in eternal feast?'
For quotes and dialogue regarding Dionysus, please refer to Dionysus/Quotes.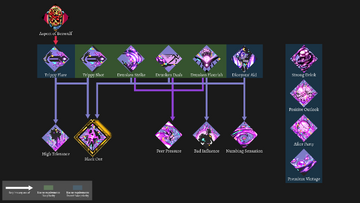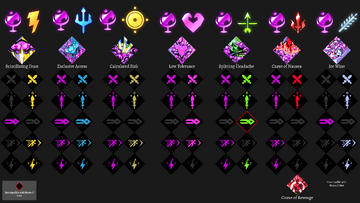 Boon
Description
Rarity
Notes
Prerequisites

Drunken Strike
Your Attack inflicts Hangover.

Common:

Rare

:

Epic

:

Heroic

:

Tier 1
None

Drunken Flourish
Your Special inflicts Hangover.

Common:

Rare

:

Epic

:

Heroic

:

Tier 1
None

Trippy Shot
Your Cast lobs a projectile that bursts into Festive Fog.

Common:

Rare

:

Epic

:

Heroic

:

Tier 1
None

Trippy Flare
Your Cast damages foes around you, leaving behind Festive Fog.

Common:

Rare

:

Epic

:

Heroic

:

Tier 1
Unique to Aspect of Hera and Aspect of Beowulf

Drunken Dash
Your Dash inflicts foes near you with Hangover.

Common:

Rare

:

Epic

:

Heroic

:

Tier 1
None

Dionysus' Aid
Your Call inflicts Hangover to foes all around you for 1.5 Sec.

Common:

Rare

:

Epic

:

Heroic

:

Tier 1

Effect Range:

600

Max Gauge Bonus:

9 Sec.

Duration

None

After Party
If your is low after Encounters, restore to the threshold.

Common:

Rare

:

Epic

:

Heroic

:

Tier 1
None

Positive Outlook
Take less damage while at 40% or below.

Common:

Rare

:

Epic

:

Heroic

:

Tier 1
None

Premium Vintage
Gain when you pick up Nectar. Receive 1 Nectar now.

Common:

Rare

:

Epic

:

Heroic

:

Tier 1

Unsellable
This boon cannot be upgraded via poms.

None

Strong Drink
Using a Fountain restores all and gives you bonus damage.

Common:

Bonus Damage per Fountain:

+3%

Rare

:

Bonus Damage per Fountain:

+4%

Epic

:

Bonus Damage per Fountain:

+5%

Heroic

:

Bonus Damage per Fountain:

+6%

Tier 1
None

Bad Influence
Deal more damage while 3 foes are Hangover-afflicted.

Common:

Rare

:

Epic

:

Heroic

:

Tier 2
Drunken Strike, Drunken Flourish, Drunken Dash, or Dionysus' Aid

Numbing Sensation
Your Hangover effects also make foes move slower.

Common:

Rare

:

Epic

:

Heroic

:

Tier 2

Slow Duration: 4 Sec.
The rarity modifier used is different from other tier 2 boons.

Drunken Strike, Drunken Flourish, Drunken Dash, or Dionysus' Aid

Peer Pressure
Hangover-afflicted foes contaminate other nearby foes every 4 Sec.

Common:

Rare

:

Epic

:

Heroic

:

Tier 2
Drunken Strike, Drunken Flourish, or Drunken Dash

High Tolerance
Take less damage while standing in Festive Fog.

Common:

Damage Resistance:

10–15%

Rare

:

Epic

:

Heroic

:

Tier 2
Trippy Shot / Trippy Flare

Black Out
Hangover-afflicted foes take bonus damage in Festive Fog.

Legendary

Tier 3
One of each:

Drunken Strike, Drunken Flourish, Drunken Dash, Dionysus' Aid
Trippy Shot / Trippy Flare


Low Tolerance
Your Hangover effects stack even more times against Weak foes.

Duo

(Aphrodite)
One of each:

Dionysus: Drunken Strike, Drunken Flourish, Drunken Dash, or Dionysus' Aid
Aphrodite: Heartbreak Strike, Heartbreak Flourish, Crush Shot, Passion Dash


Curse of Nausea
Your Hangover effects deal damage faster.

Damage Rate: .5 sec -> .35 sec

Duo

(Ares)
One of each:

Dionysus: Drunken Strike, Drunken Flourish, Drunken Dash, or Dionysus' Aid
Ares: Curse of Agony, Curse of Pain, or Curse of Vengeance


Splitting Headache
Hangover-afflicted foes are more likely to take Critical damage.

Bonus Critical Chance per Hangover Stack:

+1.5%

Duo

(Artemis)
One of each:

Dionysus: Drunken Strike, Drunken Flourish, Drunken Dash, or Dionysus' Aid
Artemis: Deadly Strike, Deadly Flourish, True Shot, or Artemis' Aid


Calculated Risk
Your foes' ranged-attack projectiles are slower.

Foe Projectile Speed Reduction:

+50%

Duo

(Athena)
One of each:

Dionysus: Drunken Strike, Drunken Flourish, Drunken Dash, or Dionysus' Aid
Athena: Divine Strike, Divine Flourish, Divine Dash, or Athena's Aid


Ice Wine
Your Cast blasts an area with freezing Festive Fog that inflicts Chill.

Duo

(Demeter)
One of each:

Dionysus: Trippy Shot
Demeter: Frost Strike, Frost Flourish, Mistral Dash, or Demeter's Aid


Exclusive Access
Any Boons you find have superior effects.

Minimum Boon Rarity:

Epic

Duo

(Poseidon)
One of each:

Dionysus: Drunken Strike, Drunken Flourish, Trippy Shot, Drunken Dash, or Dionysus' Aid
Poseidon: Tempest Strike, Tempest Flourish, Flood Shot, Tidal Dash, or Poseidon's Aid


Scintillating Feast
Your Festive Fog effects also deal lightning damage periodically.

Duo

(Zeus)
One of each:

Dionysus: Trippy Flare / Trippy Shot
Zeus: Lightning Strike, Thunder Flourish, Electric Shot, Thunder Dash, or Zeus' Aid
Dionysus' Wall-Scroll, available from the House Contractor once Dionysus is given 2
For additional information on Dionysus that does not pertain to Hades, see Wikipedia's article: Dionysus