GTA: The Criminal Enterprises - The Loop
Play Sound
| | | |
| --- | --- | --- |
| " | I understand, young Zagreus, that you would seek to leave that bitter darkness for this bitter cold? Quite honestly I fail to see why. But I'll aid your plight, why not? For I can offer plenty of assistance, and you soon shall grow fond of it, I think. | " |
| | ~ Demeter | |
Demeter is the goddess of agriculture as well as sacred law and the cycle of life and death, the giver of life and in turn, the taker of it.
Many of the boons she offers to Zagreus inflict her signature Status Curse, Chill, which causes enemies to slow down and, possibly, shatter, spreading the Curse. In addition to that, she offers the 2nd highest raw percentage damage increase. Her other boons vary between helping survivability by healing, increasing damage, or boosting your different boons over time by increasing their rarity.
Demeter boons excel at control, as Chill slows enemies down the more Zagreus strikes them. Since Chill is easy to stack and maintain, this also enables good synergy with the Mirror of Night Upgrade, Privileged Status.
Demeter only appears after reaching the surface for the first time (just reaching the final boss, they don't have to be defeated), making her one of the five Olympian gods (the other four being Poseidon, Hermes, Aphrodite and Zeus) who will not appear in the very first run of a save.
Affinity
[
]
If given Nectar, Demeter will give you the Frostbitten Horn.
Demeter's affinity gauge is maxed out at 7 hearts, requiring the gifting of 6 Nectar and 1 Ambrosia.
Favor
[
]
Demeter's favor requires completing the Epilogue, then a few instances of dialogue with her. The favor is completed when Demeter requests Zagreus to "be more candid with her" next time.
While it is not possible to forge a bond with Demeter before the Epilogue is completed, maxing out her affinity gauge to the locked heart will count towards the requirements to trigger the Epilogue.
Codex entry
[
]

'...Over time, mortals have come to fear great Demeter, eldest of Olympians, goddess of seasons, bringer of plenty, and taker-away of it. I cannot imagine she is moved by any of their offerings. Much is said of her in hushed tones, not unlike the ones reserved for the master here. Once, she administered her gifts of sustenance with generosity, until some stroke of Fate befell. She changed, and never been as giving since. The mortals who once prayed to her for plenty now beg mostly for mercy. My understanding is, despite popular belief, Demeter is no direct relation to Lord Hades or his brothers, being born of more ancient Titan stock; she certainly has taken pains to distance herself from Zeus in particular, often leaving Olympus for long stretches, in search of something. Or someone. Not that I would know a thing of it; only the mutterings of shades descended to this realm from freezing cold or famine. Surely, they pray, the seasons are due for a turn for the better?'
Quotes
[
]
For quotes and dialogue regarding Demeter, please refer to Demeter/Quotes.
Mechanics
[
]
Demeter boons mostly revolve around Chill and upgrading your Cast effects.
Boons
[
]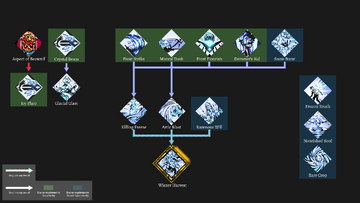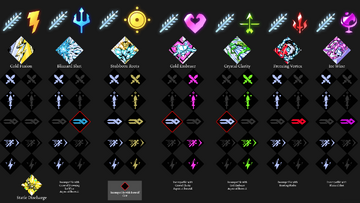 Boon
Description
Rarity
Notes
Prerequisites

Frost Strike
Your Attack is stronger and inflicts Chill.

Common:

Rare

:

Epic

:

Heroic

:

Tier 1
None

Frost Flourish
Your Special is stronger and inflicts Chill.

Common:

Rare

:

Epic

:

Heroic

:

Tier 1
None

Crystal Beam
Your Cast drops a crystal that fires a beam straight ahead for 5 sec.

Common:

Cast Damage:

8

(every 0.2 sec)

Rare

:

Cast Damage:

9.2

(every 0.2 sec)

Epic

:

Cast Damage:

10.4

(every 0.2 sec)

Heroic

:

Cast Damage:

11.6

(every 0.2 sec)

Tier 1

Beam slowly alters trajectory to hit nearest enemy.
Cannot be combined with Aspect of Beowulf

None

Icy Flare
Your Cast damages foes around you and inflicts Chill.

Common:

Rare

:

Epic

:

Heroic

:

Tier 1
Unique to Aspect of Beowulf

Mistral Dash
Your Dash shoots a gust ahead that inflicts Chill.

Common:

Rare

:

Epic

:

Heroic

:

Tier 1

Gust travels in the same direction you are facing.
Range: 300

None

Demeter's Aid
Your Call creates a winter vortex for

5 Sec

., deals damage every

0.25 Sec

inflicting Chill.

Common:

Rare

:

Epic

:

Heroic

:

Tier 1

Greater call bonus: increases duration to

10 Sec

None

Frozen Touch
After you take damage, damage and completely Chill your foe.

Common:

Rare

:

Epic

:

Heroic

:

Tier 1

Applies 10 stacks of Chill

None

Rare Crop
Your Boons become Common, then gain Rarity every 3 Encounter(s).

Common:

Rare

:

Epic

:

Heroic

:

Tier 1

Once taken, shows which Boons are being cultivated as part of the Boon Description.
In the the fourth zone, each small room before the reward counts as one encounter. (might be patch dependent)

None

Ravenous Will
While you have no , take 10% less damage and deal more.

Common:

Rare

:

Epic

:

Heroic

:

Tier 1

This boon cannot be upgraded via poms.

None

Nourished Soul
Any Health effects are more potent. Restore

+30%

now.

Common:

Improved Restoration:

30%

Rare

:

Improved Restoration:

32.5%

Epic

:

Improved Restoration:

35%

Heroic

:

Improved Restoration:

37.5%

Tier 1

Unsellable
This boon cannot be upgraded via poms.

None

Snow Burst
Whenever you Cast, damage nearby foes and inflict Chill.

Common:

Rare

:

Epic

:

Heroic

:

Tier 1
None

Arctic Blast
Applying 10 stacks of Chill causes a blast, clearing the effect.

Common:

Rare

:

Epic

:

Heroic

:

Tier 2

This boon cannot be upgraded via poms.

Frost Strike, Frost Flourish, Mistral Dash, Demeter's Aid, or Snow Burst

Killing Freeze
When all foes are Chill afflicted, they become Slow and Decay.

Common:

Slow

10%

, Decay Damage:

20

(every 0.5 sec)

Rare

:

Slow

15%

, Decay Damage:

30

(every 0.5 sec)

Epic

:

Slow

20%

, Decay Damage:

40

(every 0.5 sec)

Heroic

:

Slow

25%

, Decay Damage:

50

(every 0.5 sec)

Tier 2

This boon cannot be upgraded via poms.

Frost Strike, Frost Flourish, Mistral Dash, Demeter's Aid, or Snow Burst

Glacial Glare
Your Cast fires longer and inflicts Chill.

Common:

Rare

:

Epic

:

Heroic

:

Tier 2

Cannot be combined with Aspect of Beowulf

Crystal Beam

Winter Harvest
Chill-affected foes shatter at 10% hp, inflicting Chill nearby.

Legendary

Tier 3
Requires two of three:

Ravenous Will, Arctic Blast, Killing Freeze


Cold Embrace
Your Cast crystal fires its beam directly at you for +4 seconds.

Duo

(Aphrodite)



Cannot be combined with Crystal Clarity
Cannot be combined with Aspect of Beowulf

One of each:

Demeter: Crystal Beam
Aphrodite: Heartbreak Strike, Heartbreak Flourish, Passion Dash, or Aphrodite's Aid


Freezing Vortex
Your Cast inflicts Chill, but is smaller and moves slower.

Duo

(Ares)



Cannot be combined with Hunting Blades

One of each:

Demeter: Frost Strike, Frost Flourish, Mistral Dash, or Demeter's Aid
Ares: Slicing Shot / Slicing Flare


Crystal Clarity
Your Cast is stronger and tracks foes more effectively.

Duo

(Artemis)



Cannot be combined with Cold Embrace
Cannot be combined with Aspect of Beowulf

One of each:

Demeter: Crystal Beam
Artemis: Deadly Strike, Deadly Flourish, Hunter Dash, or Artemis' Aid


Stubborn Roots
While you have no Death/Stubborn Defiance your slowly recovers.

Duo

(Athena)
One of each:

Demeter: Frost Strike, Frost Flourish, Crystal Beam, Mistral Dash, or Demeter's Aid
Athena: Divine Strike, Divine Flourish, Phalanx Shot, Divine Dash, or Athena's Aid


Ice Wine
Your Cast blasts an area with freezing Festive Fog that inflicts Chill.

Duo

(Dionysus)



Cannot be combined with Blizzard Shot

One of each:

Demeter: Frost Strike, Frost Flourish, Mistral Dash, or Demeter's Aid
Dionysus: Trippy Shot


Blizzard Shot
Your Cast moves slowly, piercing foes and firing shards around it.

Duo

(Poseidon)



Cannot be combined with the Aspect of Beowulf
Cannot be combined with Curse of Drowning
Cannot be combined with Ice Wine

One of each:

Demeter: Frost Strike, Frost Flourish, Mistral Dash, or Demeter's Aid
Poseidon: Flood Shot


Cold Fusion
Jolted status does not expire on your enemies' attacks.

Duo

(Zeus)
One of each:

Demeter: Frost Strike, Frost Flourish, Mistral Dash, or Demeter's Aid
Zeus: Static Discharge
Gallery
[
]
Additional notes
[
]
For additional information on Demeter that does not pertain to Hades, see Wikipedia's article: Demeter