Fire Emblem Warriors: Three Hopes - The Loop
Play Sound
| | | |
| --- | --- | --- |
| " | You've got quite the fighting spirit in you there, I have to say. Most intriguing, and yet no surprise for someone born in hell itself. You come on out of there, and tell me all about it. I'm a fellow student of death, you see. | " |
| | ~ Ares | |
Ares is the Olympian God of war. Unlike the more strategically-oriented Athena, Ares' domain is the physical, violent, and untamed aspects of warfare.
He offers boons to Zagreus, which can increase his ability damage, inflict his signature Status Curse, Doom, or create Blade Rifts which deal rapid damage to enemies who walk into them.
Ares boons deal high amounts of damage over time, either by keeping enemies inside Blade Rifts, or by continuously applying Doom to enemies.
His signature Status Curse is Doom, which causes enemies to take a large amount of damage shortly after being inflicted, consuming the Curse. Ares also offers boons which increase the effectiveness of his Status Curse itself, such as Dire Misfortune.
Affinity
[
]
If given Nectar, Ares will give you Blood-Filled Vial.
Ares' affinity gauge is maxed out at 7 hearts.
Favor
[
]
Ares' favor requires completing the War-God's Bloodlust prophecy and slaying at minimum 10,000 enemies total. The affinity gauge will not immediately unlock upon completing the prophecy, but rather from a dialogue with Ares a few encounters later.
Codex entry
[
]

'...Although my heart has long since stopped, it yet holds love in it for all the gods, save one, the one who made and ruined me as well. I have no kind words to impart to him, except, perhaps, in form of this concession: War, much like the heavens and the sea, can be considered as a force of nature. It keeps men down; they will never grow too plentiful, this way, or near as mighty as the gods. And yet, men worship Ares willingly; they are so much like him. I should know. I was a warrior myself. Only in death do I begin to fully grasp my wrongs.'
Quotes
[
]
For quotes and dialogue regarding Ares, please refer to Ares/Quotes.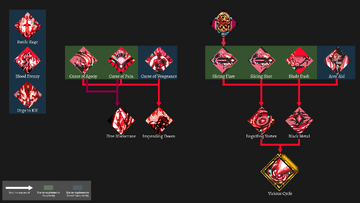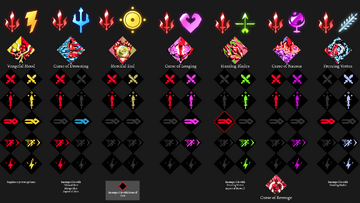 Boons
[
]
Boon
Description
Rarity
Notes
Prerequisites

Curse of Agony
Your Attack inflicts Doom.

Common:

Rare

:

Epic

:

Heroic

:

Tier 1
None

Curse of Pain
Your Special inflicts Doom.

Common:

Rare

:

Epic

:

Heroic

:

Tier 1
None

Slicing Shot
Your Cast sends a Blade Rift hurling ahead.

Common:

Rare

:

Epic

:

Heroic

:

Tier 1

Duration: 4 Sec.
Damage Interval: 0.2 Sec.
Damage Radius: 150
Speed: 250
Cannot be combined with Aspect of Beowulf

None

Slicing Flare
Your Cast sends a large Blade Rift hurling ahead for a brief time.

Common:

Rare

:

Epic

:

Heroic

:

Tier 1
Unique to Aspect of Beowulf

Blade Dash
Your Dash creates a Blade Rift where you started.

Common:

Rare

:

Epic

:

Heroic

:

Tier 1

Duration: 0.7 Sec.
Damage Interval: 0.1 Sec.
Damage Radius: 150

None

Ares' Aid
Your Call turns you into an Impervious Blade Rift for 1.2 Sec.

Common:

Rare

:

Epic

:

Heroic

:

Tier 1

Wrath Cost: 50
Max Gauge Bonus 6 Sec

None

Curse of Vengeance
After you take damage, inflict Doom on surrounding foes.

Common:

Rare

:

Epic

:

Heroic

:

Tier 1

Effect Radius: 450
Curse Delay: 1.1 Sec.

None

Urge to Kill
Your Attack, Special, and Cast deal more damage.

Common:

Attack, Special, and Cast Damage:

+10%

Rare

:

Attack, Special, and Cast Damage:

+13%

Epic

:

Attack, Special, and Cast Damage:

+16%

Heroic

:

Attack, Special, and Cast Damage:

+19%

Tier 1
None

Battle Rage
After slaying a foe, your next Attack or Special deals more damage.

Common:

Rare

:

Epic

:

Heroic

:

Tier 1
None

Blood Frenzy
After using Death Defiance, deal more damage that encounter.

Common:

Rare

:

Epic

:

Heroic

:

Tier 1

This boon cannot be upgraded via poms.

None

Black Metal
Your Blade Rift powers deal damage in a wider area.

Common:

Bonus Area of Effect:

+20%

Rare

:

Bonus Area of Effect:

+22%

Epic

:

Bonus Area of Effect:

+24%

Heroic

:

Bonus Area of Effect:

+26%

Tier 2
Slicing Flare / Slicing Shot, Blade Dash, or Ares' Aid,

Engulfing Vortex
Your Blade Rift effects last longer and pull foes in.

Common:

Rare

:

Epic

:

Heroic

:

Tier 2

This boon cannot be upgraded via poms.

Slicing Flare / Slicing Shot, Blade Dash, or Ares' Aid

Dire Misfortune
Your Doom effects deal more damage when applied multiple times.

Common:

Bonus Damage per Curse:

10

Rare

:

Bonus Damage per Curse:

12

Epic

:

Bonus Damage per Curse:

14

Heroic

:

Bonus Damage per Curse:

16

Tier 2

This boon cannot be upgraded via poms.

Curse of Agony or Curse of Pain

Impending Doom
Your Doom effects deal more damage, after +0.5 Sec.

Common:

Rare

:

Epic

:

Heroic

:

Tier 2
Curse of Agony, Curse of Pain, or Curse of Vengeance

Vicious Cycle
Your Blade Rift effects deal more damage for each consecutive hit.

Damage Increase per Hit:

+2

Legendary

Tier 3
Black Metal or Engulfing Vortex

Curse of Longing
Your Doom effects continuously strike Weak foes.

Successive Hit Damage:

50%

Duo

(Aphrodite)
One of each:

Ares: Curse of Agony or Curse of Pain
Aphrodite: Heartbreak Strike, Heartbreak Flourish, Crush Shot / Passion Flare, or Passion Dash


Hunting Blades
Your Cast creates a faster Blade Rift that seeks the nearest foe.

Duo

(Artemis)



Cannot be combined with Aspect of Beowulf.
Cannot be combined with Freezing Vortex.

One of each:

Ares: Slicing Shot
Artemis: Deadly Strike, Deadly Flourish, Hunter Dash, or Artemis' Aid,


Merciful End
Your attacks that can Deflect immediately activate Doom effects.

Duo

(Athena)
One of each:

Ares: Curse of Agony or Curse of Pain
Athena: Divine Strike or Divine Flourish


Freezing Vortex
Your Cast inflicts Chill, but is smaller and moves slower.

Duo

(Demeter)



Cannot be combined with Hunting Blades

One of each:

Ares: Slicing Shot / Slicing Flare
Demeter: Frost Strike, Frost Flourish, Mistral Dash, or Demeter's Aid


Curse of Nausea
Your Hangover effects deal damage faster.

Damage Rate: .5 sec -> .35 sec

Duo

(Dionysus)
One of each:

Ares: Curse of Agony, Curse of Pain, or Curse of Vengeance
Dionysus: Drunken Strike, Drunken Flourish, Drunken Dash, or Dionysus' Aid


Curse of Drowning
Your Cast is a pulse that deals damage to foes around you.

Duo

(Poseidon)



Cannot be combined with Mirage Shot or Blizzard Shot
Cannot be combined with Aspect of Hera

One of each

Ares: Curse of Agony, Curse of Pain, Blade Dash, or Ares' Aid
Poseidon: Flood Shot or Flood Flare


Vengeful Mood
Your Revenge attacks sometimes occur without taking damage.

Auto-Revenge Rate:

3 Sec.

Duo

(Zeus)
One of each:

Ares: Curse of Agony, Curse of Pain, Slicing Shot / Slicing Flare, Blade Dash, or Ares' Aid
Zeus: Lightning Strike, Thunder Flourish, Electric Shot / Thunder Flare, Thunder Dash, or Zeus' Aid
Revenge boon: Wave of Despair, Curse of Vengeance, Holy Shield, Frozen Touch, or Heaven's Vengeance
Gallery
[
]
Additional notes
[
]
For additional information on Ares that does not pertain to Hades, see Wikipedia's article: Ares