| | | |
| --- | --- | --- |
| " | Why hello, hello, there, little godling. I have to say you're quite the specimen, and so, I've decided I shall aid you for the moment. You interested? | " |
| | ~ Aphrodite | |
Aphrodite is the Olympian Goddess of love and beauty. She offers boons to Zagreus that inflict her signature Status Curse, Weak, or make enemies more susceptible to damage.
Aphrodite boons not only increase your damage, but also your survivability, making enemy attacks less effective as you fight them. Due to Weak effects being easy to inflict, Aphrodite also enables synergy with the Mirror of Night Upgrade, Privileged Status.
Her signature Status Curse is Weak, which reduces the damage afflicted enemies do by 30%. Aphrodite also offers boons which increase the effectiveness of her Status Curse itself, such as Empty Inside (which increases the effect's duration).
Aphrodite is one of three Olympian gods (the other two being Demeter and Zeus) who will not appear in the very first run of a save.
If given Nectar, Aphrodite will give you the Eternal Rose.
Aphrodite's affinity gauge is maxed out at 7 hearts, requiring the gifting of 6 Nectar and 1 Ambrosia.
Aphrodite's favor requires Zagreus to illustrate his capacity for love, both platonically and passionately, by forging bonds with Dusa, Thanatos and Megaera (you will trigger 1 dialogue with the goddess for each bond you forge with them and a 4th one to actually get the favor).

'...Aphrodite wields her beauty and her charm with much the same lethality as I could wield the spear. I have seen her handiwork first-hand, and it is often not as pretty as she is. I sometimes think that she, among all the Olympians, may be the mightiest of all. A crashing wave or thundering tempest are preferable to a broken heart. Yet, while love's the force that brought me and countless others low in life, it also brought me and countless others strength, beyond the bounds of normal men. Still I fear that Aphrodite's power is the most terrible in all the world.'
For quotes and dialogue regarding Aphrodite, please refer to Aphrodite/Quotes.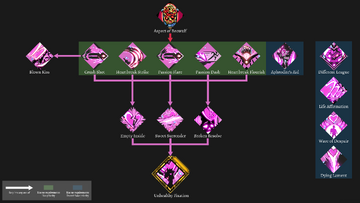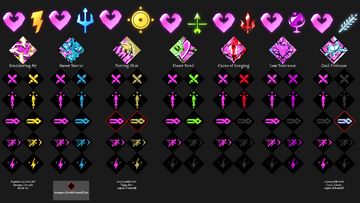 Boon
Description
Rarity
Notes
Prerequisites

Heartbreak Strike
Your Attack deals more damage and inflicts Weak.

Common:

Rare

:

Epic

:

Heroic

:

Tier 1
None

Heartbreak Flourish
Your Special deals more damage and inflicts Weak.

Common:

Rare

:

Epic

:

Heroic

:

Tier 1
None

Crush Shot
Your Cast is a wide, short-range blast that inflicts Weak.

Common:

Rare

:

Epic

:

Heroic

:

Tier 1

Range: 300
Weak Duration: 3 Sec.
Cannot be combined with Aspect of Beowulf

None

Passion Flare
Your Cast damages foes around you and inflicts Weak.

Common:

Rare

:

Epic

:

Heroic

:

Tier 1
Unique to Aspect of Beowulf

Passion Dash
Your Dash inflicts damage where you end up, inflicting Weak.

Common:

Rare

:

Epic

:

Heroic

:

Tier 1

Weak Duration: 3 Sec.
Damage Radius: 180

None

Aphrodite's Aid
Your Call fires a seeking projectile that inflicts Charm. Full Gauge Bonus: 2500 damage

Common:

Rare

:

Epic

:

Heroic

:

Tier 1

The charm projectile pierces foes.

None

Dying Lament
When foes are slain, they damage nearby foes and inflict Weak.

Common:

Rare

:

Epic

:

Heroic

:

Tier 1
None

Wave of Despair
After you take damage, damage nearby foes and inflict Weak.

Common:

Rare

:

Epic

:

Heroic

:

Tier 1
None

Different League
Resist some damage from nearby foes' attacks.

Common:

Reduced Damage from Foes:

10%

Rare

:

Reduced Damage from Foes:

13%

Epic

:

Reduced Damage from Foes:

15%

Heroic

:

Reduced Damage from Foes:

18%

Tier 1
None

Life Affirmation
Any or chamber rewards are worth more.

Common:

Rare

:

Epic

:

Heroic

:

Tier 1

This boon cannot be upgraded via poms.
This boon does not affect Thanatos encounters or items bought from Charon's shop.

None

Empty Inside
Your Weak effects have a longer duration.

Common:

Rare

:

Epic

:

Heroic

:

Weak Duration:

+12.5 sec.

Tier 2
Heartbreak Strike, Heartbreak Flourish, Crush Shot, or Passion Dash

Sweet Surrender
Weak-afflicted foes are also more susceptible to damage.

Common:

Rare

:

Epic

:

Heroic

:

Tier 2.

Does not get increased by Broken Resolve

Heartbreak Strike, Heartbreak Flourish, Crush Shot, or Passion Dash

Broken Resolve
Your Weak effects are more potent.

Common:

Weak Damage Reduction:

+10%

Rare

:

Weak Damage Reduction:

+12.5%

Epic

:

Weak Damage Reduction:

+15%

Heroic

:

Weak Damage Reduction:

+17.5%

Tier 2

This boon cannot be upgraded via poms.

Heartbreak Strike, Heartbreak Flourish, Crush Shot, or Passion Dash

Blown Kiss
Your Cast shoots farther and is stronger against undamaged foes.

Common:

First-Hit Bonus Damage:

+50%

Rare

:

Epic

:

Heroic

:

Tier 2

Cast range is doubled and is also 30% wider.

Crush Shot

Unhealthy Fixation
Your Weak effects also have a

15%

chance to Charm foes.

Legendary

Tier 3
One of each:

Heartbreak Strike, Heartbreak Flourish, Crush Shot, or Passion Dash
Empty Inside, Sweet Surrender or Broken Resolve


Curse of Longing
Your Doom effects continuously strike Weak foes.

Successive Hit Damage:

50%

Duo

(Ares)
One of each:

Aphrodite: Heartbreak Strike, Heartbreak Flourish, Crush Shot, or Passion Dash
Ares: Curse of Agony or Curse of Pain


Heart Rend
Your Critical effects deal even more damage to Weak foes.

Bonus Critical Damage vs. Weak:

+150%

Duo

(Artemis)
One of each:

Aphrodite: Heartbreak Strike, Heartbreak Flourish, Crush Shot, or Passion Dash
Artemis: Deadly Strike, Deadly Flourish, or True Shot


Parting Shot
Your Cast gains any bonuses you have for striking foes from behind.

Bonus Backstab Damage:

+25%

Duo

(Athena)



Cannot be combined with Trippy Shot

One of each:

Aphrodite: Heartbreak Strike, Heartbreak Flourish, Crush Shot, Passion Dash, or Aphrodite's Aid
Athena: Divine Strike, Divine Flourish, Phalanx Shot, Divine Dash, or Athena's Aid


Cold Embrace
Your Cast crystal fires its beam directly at you for 4 seconds.

Duo

(Demeter)



Cannot be combined with Crystal Clarity
Cannot be combined with Aspect of Beowulf

One of each:

Aphrodite: Heartbreak Strike, Heartbreak Flourish, Passion Dash, or Aphrodite's Aid
Demeter: Crystal Beam


Low Tolerance
Your Hangover effects stack even more times against Weak foes.

Duo

(Dionysus)
One of each:

Aphrodite: Heartbreak Strike, Heartbreak Flourish, Crush Shot, or Passion Dash
Dionysus: Drunken Strike, Drunken Flourish, Drunken Dash, or Dionysus' Aid


Sweet Nectar
Any Poms of Power you find are more effective.

Duo

(Poseidon)
One of each:

Aphrodite: Heartbreak Strike, Heartbreak Flourish, Crush Shot, Passion Dash, or Aphrodite's Aid
Poseidon: Tempest Strike, Tempest Flourish, Flood Shot, Tidal Dash, or Poseidon's Aid


Smoldering Air
Your Call charges up automatically, but is capped at 25%.

Auto Gauge Gain: 1% every .2 seconds

Duo

(Zeus)



Cannot be combined with Sigil of the Dead

One of each:

Aphrodite: Heartbreak Strike, Heartbreak Flourish, Crush Shot, Passion Dash, or Aphrodite's Aid
Zeus: Lightning Strike, Thunder Flourish, Electric Shot, Thunder Dash, or Zeus' Aid
For additional information on Aphrodite that does not pertain to Hades, see Wikipedia's article: Aphrodite